Welcome back to the 45th Annual Bellarmine/Sacred Heart HS Griffith Park Invitational sponsored once again by Runner's Circle and our new sponsor Skechers Performance. We invite your team to participate in our Invitational we would like to continue providing optimum racing conditions and accommodate additional team entries. Our meet will take place on Saturday, September 29th. We will have 3 Divisions: Red,White and Blue with first race starting at 7:30 a.m. Our meet is the longest running event held in Griffith Park and has one of the oldest cross-country records in the Boy's Varsity Race which was set by Richard Erbes in 1985 at 14:10 for the 2.89 mile course. We also take pride in honoring Doug Speck, a giant in our sport who passed away a year ago by naming the boys' seeded race in his honor. And ALL the races will take place at the Paul Suzuki Starting Line (Paul was a dedicated starter who passed away several years ago in a tragic Track accident). Check (later) the Meet Schedule for race start times.
Open 5k Run
On Saturday September 29th, 2018 there will be an Open 5k Race added to the 45th Annual
Bellarmine Griffith Park Invitational. This race is open to all non high school athletes.
This event is sponsored by A Runner's Circle and Skechers Performance.

Skechers Performance is a proud sponsor of this year's event, and the winner of each varsity race as well as the winning team of each seeded race will receive a pair of Skechers Performance running shoes.
Skechers Performance will also be onsite with merchandise offered at special discount prices exclusive for the event. Stop by their tent for games and giveaways.



MOLLY HUDDLE

American record holder Molly Huddle joined us in 2013 and gave away an autographed pair of spikes. The US women's record holder at 5000 (14:42.64) also signed autographs at the start/finish area. Molly has competed at the world track and field championships. She also was the first American finisher at the 2013 Moscow championships and won the International Women's mile at the Morton Games in 2014. Molly's recent accomplishments was finishing 6th in the 10k at the Rio Olympics.



---

The Meet Director, Committee and all who make this event possible

Wish to thank Tom LaBonge!
Councilmember District 4, Chairman of Trade, Commerce & Tourism and Vice Chair of Arts, Parks, Health, Aging & River.

Tom has championed our efforts to hold the Meet at Griffith Park throughout the years. We couldn't have done it without you, Tom! Thank you for your civic leadership and support
of this long standing tradition of running –42 years in the making!



---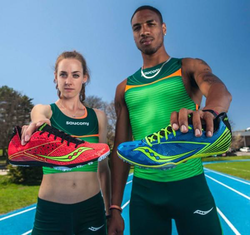 DUANE SOLOMON

Duane Solomon joined us in 2014. Highlights: 2012 Olympic 800 meter Finalist - 4th in a time of 1:42.82 making him the 2nd fastest American behind his coach Johnny Gray. (That was also the fastest 800m final in olympic history where the world record was broken by the champion). 2013 - USA 800m Outdoor Championship - A California Native out of Cabrillo High School (Lompoc) and attended USC. Now training in Florida with his same coach, Johnny Grey. One of his main goals, is to break the American record which stands at 1:42.60). He was also the athlete in attendance at Bell -Jeff in 2012.


---